Power Puzzle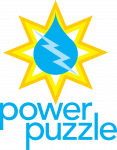 The 2007 FIRST Lego League Power Puzzle game is centered around the ideas of clean and efficient energy. All of the tasks involve using clean energy while avoiding inefficiencies. The mat, which pictures a community complete with houses, a power plant, a farm, a river, and the ocean. In the energy-related research project, teams had to perform an energy audit on a community building and suggest changes that would save energy.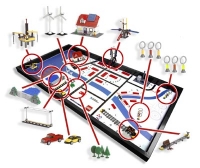 The robot challenge featured over ten missions. One of the missions involved placing a solar panel on the roof of a house. In another mission, robots must deploy a solar satellite to earn points. Robots could also score by replacing a truck with low fuel efficiency with a more efficient car, or place a hydroelectric dam without flooding the nearby communities. A fifth mission involved placing a team-built wave turbine in the ocean. More points could be scored by installing wind turbines in the residential communities, and even more points for connecting the communities to the power plant via the power line. In addition, points were earned for planting trees or delivering them to the power plant. Finally, teams could choose to harvest corn, uranium, or coal and deliver them to the power plant.
For the research project, teams were required to choose a community building. They then had to perform an energy audit, noting places where energy was used inefficiently. Next, the teams were challenged with the task of deciding how to improve those efficiencies. The teams presented the results of their audit along with the suggestions to the research judges at competitions in addition to the owners of the buildings they audited.