Smart Move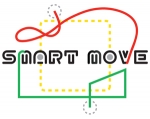 Imagine teams of young, ambitious, kids going to a competition with a robot of their own creation. Now imagine them leaving that day, with a first place trophy in their possession. This very opportunity is provided by the Shelton High School robotics team, the Gaelhawks. Through our experience with gracious professionalism and coopertition, we assist the younger generations to succeed in what they thrive to accomplish.
The 2009 challenge for the FLL teams is called Smart Move.Based on transportation, teams around the world had to create and program robots made out of Lego kits to perform specific tasks such as dodging trucks and picking up loops and bringing them back to base.Each match has a time limit of 2 minutes to gather as many points as they can.There are 2 teams and 2 referees per table.A team consists of 3 – 10 student members, a coach, and mentors. The robot game takes place on a field which consists of a mat, and various game pieces such as warning beacons, a bridge, a truck, and many more.
During this competition all teams must present a research project to a panel of judges.This year's problem was about finding and researching a mode of transportation in their community.After conducting this research, the students must find a problem with this form of transportation and fix it and share it with the community.