Co-Opertition FIRST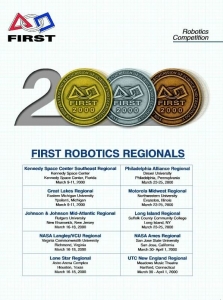 The playing field was a carpeted, rectangular area with two 6 ft (2 m) high goals located midfield, one goal for each alliance. There is a 30 in (762 mm) clearance bar under each goal. Between the goals is an 8 ft (2 m) wide ramp with a 5 ft (2 m) clearance bar, which robots may hang on to score points. Around the perimeter of the field are four stations for human players, who work with remote controlled robots on the field to score points. At the start of each match, each alliance station contains seven yellow balls and one black ball. Fifteen yellow balls and two black balls are located at the far end of the playing field.
1 Point for Yellow Ball in Scoring Trough
5 Points for Black Ball in Scoring Trough
5 Points for a robot on Ramp at end of Match
10 Points for robots Hanging at end of Match
The maximum score a alliance can gain is 45 to 44 points with the winning alliance receiving 132 QP's. This can be achieved as follows:
Robots Hanging - 10 points
3 Black Balls - 15 points
15 Yellow Balls - 15 points
1 Robot on Ramp - 5 points
"Co-Opertition"
The idea of Co-opertition stems from the games scoring for the qualifying matches. The winning alliance receives 3x the loser's score as their qualifying points. Thus, it is more beneficial to win a match 10-9 than 20-0.