Shelton High School Robotics Program
Written by Shelton Life City of Shelton 2015-2016 Biennial Report on August 30, 2015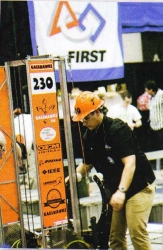 The Shelton High School Robotics Team recently finished their 17th year of participation in the FIRST Robotics Competition. This year's team traveled to District competitions in Waterbury & Hartford, CT and Dartmouth, MA and also participated in the New England District Championship held in Worcester, MA. They have also competed in the FIRST World Championship event held each year in St. Louis, MO. Over 25 students, 7 engineer mentors and several teachers and parents were a part of this year's team. The Shelton Board of Education, Boeing, ATT Connecticut, UTC Sikorsky, Intuitive Surgical, Ametek/Hayden Kirk, and OEM Controls were once again the major corporate sponsors of the program, and the relationship with these partners continues to grow.
On the field, the Gaelhawks robot, Talon XVI, performed in every match with the great success coming in the District events where they were winners in all three competitions, Waterbury, Hartford, and Dartmouth!
They were also awarded the Chairman's award at the Hartford competition recognizing the team for its overall quality in every aspect of the FIRST Robotics program. The team was touted as "the team for all others to emulate". At the New England District Championship, the team was also awarded the Entrepreneurial award for their sustaining business plan.
During the off-season, the team participates in many community events including Pitney Bowes Diversity Day, Relay for Life, Sikorsky Family Day, SHS Adopt a Family, and the SHS Food Bank. The High School students also mentor the Intermediate and Perry Hill School FLL Robotics Team which is involved in the FIRST Lego League Competition and played host to the Shelton Qualifying event and the Connecticut State Championship.
Students have multiple opportunities to participate in several different areas on the team including robot construction, electrical work, computer programming, website design, public relations and community service. Each year the program continues to grow and is one of the premier Robotics Teams in the Northeast.
Photo: Christian Tallo on the Competition Field.