About Team 230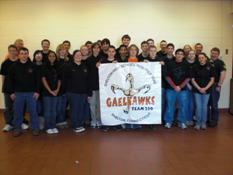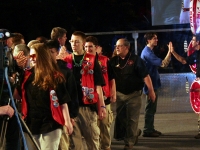 Shelton High School is now in its sixteenth year of involvement in the FIRST Robotics Competition. Team 230, "The Gaelhawks", is both an award-winning team and an active "STEM" force within the community. Students on the team are mentored by professionals in mechanical and electrical engineering, programming, and animation In the 2013 session at the Connecticut Regional our team became the Chairman's Award Winner and Finalists. Early in the session at the 2013 BAE Granite State Regional our team also won the Industrial Design Award sponsored by General Motors Winner and Semi-finalists..
The team's primary activity is participating in FRC. Each year, when FIRST releases the game, the team immediately gets to work. The team splits into groups to develop their own strategies, then the team reconvenes and decides on the overall game plan. The team then works on designing prototypes for fulfilling the game. As team members experiment with help from mentors, the robot's design slowly comes together. Once the robot is done, the team selects several potential drive team members, and allows them to practice.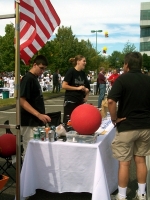 However, the robot is not the only thing that gets made during the build season. The team has a spirit committee to make sure the Gaelhawks have a strong presence in the stands. An animation team works to create a submission for the Media award, and another team makes sure the team's web site is informative, up-to-date, and easy to use.
Team 230 continues to mentor FIRST Lego League teams from Shelton CT, expanding from three to five teams in 2012. The team also volunteers yearly at the FLL Shelton Qualifying Event. Team 230 is also works along side and mentors Team 3634, from Warren Harding High School, Bridgeport Connecticut, and is willing to help out any team in need of assistance.
When the team is not building robots, it keeps itself busy by getting involved in the community. Team members participate in a variety of fundraisers every year. The team is involved in Relay for Life, Special Olympics, and Read Across America, along with other community events. Being part of the team is a year long commitment that is both fun and educational.