Zone Zeal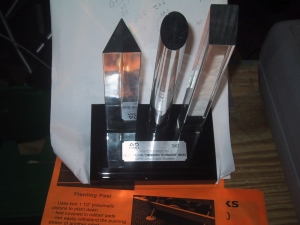 The Zone Zeal was one of the few years that the team completely revamped their design mid-build season. What started off to be a single goal capturing ball feeding robot morphed into a double goal grabbing design with two secret weapons; a fith-wheel to allow the robot with its captive goals to spin, and pneumatic activated feet to hold it in place. Along with a philosophy of continuous improvemt at each regional 230 ended up with a highly effective goal contoling machine with a double strike end-zone scoring capability with it scissor gates. This work paid off. 230 was an Archimedes Finalist missing Einstein by only inches with one of the end-zone scoring mechanisms.
2002 was also the first year the the team Engineering Mentors created the Engineers Scholarship Award. This award entirely financed by the Engineers themselves with no outside donations was created to help the teams top college bound student with a monatary award of 00.
2002 Events
· SBPLI Long Island Regional – Suffolk County Community College West Campus, Brentwood, NY March 14-16, 2002
o Delphi "Driving Tomorrow's Technology"
o Regional Quarter-finalist
· UTC New England Regional - New Haven Veterans Memorial Coliseum, New Haven, CT April 4-6, 2002
o Xerox Creativity
o Regional Quarter-finalist
· The Championship Event – Walt Disneyworld Epcot, Orlando, FL April 25-27, 2002
o Archimedes Division Finalist
Team Awards
· Founder's Award – Szeker Engineering, Inc.
· Talon Award – Anne Szeker
· Unsung Hero Award – Jen Vogl / Chris Bertuccio
· Spirit Award – Fred Samoskevich
· Best Driver Award – Dave Wickers
· Engineer's Award – Dave Wickers
· Engineers' Scholar – Chris Bertuccio
Community Events
· 2nd Annual Gaelhawks Dinner & Auction, Shelton High School, Shelton, CT November 30, 2001
· Read Across America - Sheltion CT February 25-29, 2002
· Special Olympics of Connecticut - Yale University, New Hven, CT June 1-2, 2002
· Relay for Life - Shelton High School, Shelton, CT June 22, 2002
Off-Season Competitions
· 3rd Annual Bash@theBeach - Lyme-Old Lyme High School, Old Lyme, CT August 18, 2001
o Grace Under Pressure Award
· UTC Scrimmage – Suffield High School, Suffield, CT
Team
Students Teachers
Crystal Abbott Tracy Hussey
Matt Alyward John Niski
Jen Arsen Lou Schmecker
Chuck Baugh Helen Scully
Chris Bertucio Kerry Taylor
David Chapman
John DiBiasi Engineers
Robert Duguay Jim Alston
Sergei Golos Dale Bailey
Stephen Gomes Charles Baugh
Bob Hagh John Gomes
Katherine Harris Steve Kline
Dave Hiscock Jack Luckachina
David Holden Bob Lundberg
Soren Ibsen Herman Szeker
Claire Luckachina Henry Voegeli
Kevin Lundberg Richard Vogl
Kyle Mosher Scott Wurms
Chris Parrs Paul Zito
Mike Persico
Brett Rocheleau Parents
Fred Samoskevich Kevin Alyward
Chris Sawyer Susan Alyward
Brian Spinetti Rebecca Baugh
Steve Symski Barbara Bertucio
Anne Szeker Kathy Dugay
Brian Taronjii Nanacy Gomes
Jennifer Vogl Robert Harris
Dave Wickers Emily Harris
Brian Yarsawich Mary Jo Zito
Kimberly Zito