FIRST Frenzy: Raising the Bar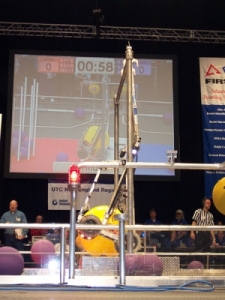 2004 ushered in the first Regional Championship for Team 230. Following the KISS principle and concentrating on doing one, and only one, task well we provedto be the perfect alliance partner that year. Unsing a combination worm-gear diven, pneumatically assisted arm we were able to raise ourselves on the bar in all of our matches.
This year also showed our continued dominence in the Animation Award catagory. Although our sucess didn't follow us to the Championship 2004 proved to be one of the most sucessful years for our robotic program.
2004 Events
· UTC New England Regional - Meadows Music Theater, Hartford CT 2004
o Autodesk Visualization Award
o Engineering Inspiration Award
o Regional Champion
· The Championship Event – Georgia Dome, Atlanta, GA 2004
Team Awards
· Founder's Award - John Gomes
· Talon Award - Matt Aylward / Steve Symski
· Unsung Hero Award - Kristen Lundberg
· Spirit Award - Steven O'Connor
· Media Technology Award - Samantha Lipscomb
· Sponsorship Award - Pitney Bowes / Shelton Board of Education / Emhardt - Black & Decker / Szeker Engineering
· Engineers' Scholar - Steve O'Connor
Community Events
· Ripton School Participation (Special Needs Student Involvement) FLL & Build Season 2003-2004
· Bocce-Ball Shooter - Adapted for wheel chairs by student Dave Wickers 2003
· Gaelhawks Dinner & Auction - Shelton High School - December 4, 2003
· Relay for Life - The Riverwalk, Shelton CT June 5, 2004
· Special Olympics of Connecticut 2004
· Derby-Shelton Memorial Day Parade- Derby & Shelton, CT May 31, 2004
· Sikorsky Aircraft Robot Demonstration - Sikorsky Main Plant, Stratford CT June 2, 2004
· Car Wash - Echo Hose Ambulance Station - Shelton, CT June 19, 2004
· Team 230 Picnic - Cox Residence- Shelton, CT June 19, 2004
Off-Season Competitions
· Bash@theBeach - Lyme-Old Lyme Middle School, Old Lyme, CT
· UTC Scrimmage – Suffield High School, Suffield, CT
Team
Students Teachers
Bradley Anderson Tracy Hussey
Samer Aref John Niski
Matt Aylward Lou Schmecker
John Barnstein Helen Scully
Mike Bifulco Kerry Taylor
Will Blasko
Anthony Castorina Engineers
Paul Claudio Dale Bailey
Alicia Cox John Gomes
Carl Curran Steve Kline
Michaela Davis Jack Luckachina
Ryan Griffin Robert Lundberg
Bob Hagh John Miller
Dave Hiscock Herman Szeker
AJ Keegan Josef Visinski
Michelle Lewis Richard Vogl
Samantha Lipscomb Paul Zito
Claire Luckachina
Brian Lundberg Parents
Kristin Lundberg Kevin Aylward
Josh Messina Sue Aylward
Kyle Mosher Mary Barnstien
Stephen O'Connor Donna Curran
Michael Persico Nancy Gomes
Zak Purcell Elizabeth Griffin
Brian Rak Ted Lipscomb
Bret Rocheleau Susan Lipscomb
Bryan Stewart Diane Rak
Stephen Symski Tom Symski
Claire Szeker Nancy Szeker
Tom Victor
Joe Visinski
Elissa Voccola
Brendon Wall
Kevin Wang
Tim Wells
Kim Zito