Triple Play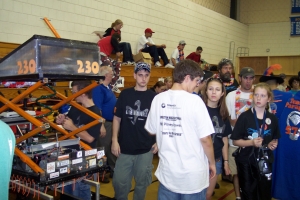 Triple Play changed the way we viewed tic-tac-toe forever. 230 came out strong with what we though was the game killing design, a sicssor lift designed to dump multiple tetras on the goal. In the early events it proved to be an unbeatable stratagy where the ungainly crane type robots were having difficulty raising and capping. As the weeks progressed and the drivers gained experience with their robots when they exercised a little patience they could cap our stack with ease.
The Championship Event was extremely humiliating in the division quarter-finals when an alliance of three dumpers were skunked by an alliance of three cappers resulting in the highest score for the game that year.
230 had many desigh break throughs that year however. A fast lift with an optical sensor determining height, muti-speed transmission, and a welded frame would prove to provide the team with experience that would help them to be competitive in the future.
2005 Events
· UTC New England Regional - Meadows Music Theater, Hartford CT March 10-12, 2005
o Autodesk Visualization Award
o Finalist
o Safety Award
o Webcast provided curtesy of Team 230
· The Championship Event – Georgia Dome, Atlanta GA April 21-23, 2005
Team Awards
· Founder's Award - Kevin & Susan Aylward
· Talon Award - Steven O'Connor
· Unsung Hero Award - Claire Szeker
· Spirit Award - Tom Victor
· Media Technology Award - Brian Rak
· Sponsorship Award - UTC / Sikorsky / Pitney Bowes / Shelton Board of Education / Emhardt - Black & Decker / Szeker Engineering / Expect Discounts
· Rookie All-Star - Jay Monahan
· Engineers' Scholar - Steve Symski
Community Events
· Team 230 Mentoring of Shelton Intermediate FLL Team, the Thundering Tigers, Shelton High School, Shelton, CT September thru December, 2004
· Pitney Bowes Diversity Day - Pitney Bowes Shelton Facility, Shelton, CT September 11, 2004
· Extreme Paintball - Team building with FRC1099 - Waturbury CT November 7, 2004
· FLL Bridgeport Qualifying Event – FIRST Lego League Connecticut State Qualify Event hosted by Team 230 - Wheeler Recreation Center, University of Bridgeport, Bridgeport CT November 20, 2004
· Gaelhawks Dinner & Auction - Shelton High School, Shelton CT December 2, 2004
· 2005 Science Fair Expo - Bridgeport Students 7th thru 12th grade - Student Center, University of Bridgeport, Bridgeport CT February 4, 2005
· BAE Granite State Regional volunteers - Verizon wireless Arena, Manchester NH March 3-5, 2005
· Atlanta Braves Baseball, Turner Field, Atlanta GA April 22, 2005
· Shelton Exchange Club Presentation on FIRST - Bronson Country Club, Shelton CT April 30, 2005
· Team 230 Car Wash & Picnic - Echo Hose Ambulance Station & Shelton High School, Shelton CT April 30, 2005
· Relay for Life - Canal Street, Shelton CT 2005
· Special Olympics of Connecticut 2005
· Read Across America - A reading incentive program for Elementary Schools
· Adopt-a-Family - Providing Christmas to local families in need
· Shelton Food Bank - Soliciting donations of canned goods and non-perishables for local families in need
Off-Season Competitions
· 6th Annual Bash@theBeach - Lyme-Old Lyme High School, Old Lyme, CT October 2, 2004
· UTC Scrimmage - Suffield High School, Suffield, CT February 19, 2005
Team
Students Teachers
Matt Alyward Tracy Hussey
John Barnstein John Niski
Allen Keegan Lou Schmecker
Lisa Lawrence Helen Scully
Samantha Lipscomb
Brian Lundberg Engineers
Kyle Mosher Dale Bailey
Steven O'Conner John Gomes
Gregory Omelchenko Steve Kline
Brian Rak Bob Lundberg
Brett Rocheleau John Miller
Chris Sawyer Richard Vogl
Bryan Stuart Paul Zito
Steve Symski
Claire Szeker Parents
Tom Victor Kevin Alyward
Susan Alyward