Rack 'n Roll
2007 was a great year for Team 230. In addition to attending their home regional in Hartford, Connecticut, the Gaelhawks traveled down to sunny Florida to compete in Orlando. The robot, Talon VIII, performed well in both competitons, as well as the several offseason competitions the team attended.
Once the game was announced, the team wasted no time in getting to work. Prototypes were suggested and refined, eventually becoming the 5 foot long wings and suction-based arm that Talon VIII used in competition. After the prototype bot was built, team members began work on the competition robot. The entire process went off without any major problems. While weight was not too much of an issue, it did prohibit the team from making a few enhancements to the 'bot. A few days before the build season ended, the team attended the Winter War Zone, run by team 176, Aces High. The prototype robot made it to the semifinals before losing, but won the Tank Award for being able to take a beating without any damage. In addition, the team became the first team during the season to score during autonomous mode on an official field.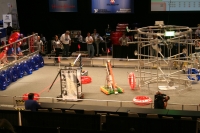 A few weeks after sending the robot off, the team headed down to Orlando. After enjoying a fun day at Disney the day before the competition, the team went to the venue for three days of matches. Although the team didn't get chosen for an alliance, they did win the Underwriters Laboratory Industrial Safety Award, and team members enjoyed the regional immensely.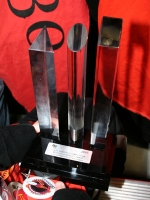 The team then hurried back to Connecticut to participate in their home regional, the UTC Connecticut Regional. The experience gained in Florida as well as being on their "home turf" was a huge benefit to the team. The Gaelhawks did much better at the UTC regional, and was the first to score in autonomous during practice matches. Their autonomous success was not limited there, as Talon VIII scored many times throughout the day in autonomous mode. On Saturday, the Gaelhawks were chosen by the second ranked alliance, headed by Team 20, during eliminations. The team made it to the semifinals, despite some technical difficulties experienced by one of 230's partners, but lost during the semifinals to the UTC regional winners. However, the team still came out winners, leaving with another UL Safety Award in addition to a Motorola Quality Award.
All in all, the year was a great success for Team 230--And a very safe one!
2007 Events
· Florida Regional - Orlando, FL March 8-10, 2007
o UL Industrial Safety Award
· UTC Connecticut Regional - Connecticut Convention Center, Hartford CT March 15-17, 2007
o Motorola Quality
o UL Industrial Safety Award
o Semi-Finalist
o Webcast provided curtesy of Team 230
Team Awards
· Founder's Award - Mrs. Tracy Hussey
· Talon Award - Lisa Lawrence
· Unsung Hero Award - Brendan Gorley / Nicole Misencik
· Spirit Award - Amy Ricker
· Rookie All-Star - Aaron Egensteiner
· Engineering Inspiration - Jay Monahan
· Volunteer of the Year - Laura Spoldi
· Engineers' Scholar - Brendon Wall
Community Events
· Team 230 Mentoring of Shelton Intermediate FLL Team, the Thundering Tigers, Shelton High School, Shelton, CT September thru December, 2006
· Pitney Bowes Diversity Day - Pitney Bowes Shelton Facility, Shelton, CT September 16, 2006
· Shelton Exchange Club Pumpkin Festival - Fairview Pumpkin Farm October 21, 2006
· FLL Waterbury Tune Up – FIRST Lego League Scrimmage - Team 230 Judges & Volunteers, Wallace Middle School, Waterbury CT Novenber 18, 2006
· Gaelhawks Dinner & Auction December - Shelton High School, Shelton, CT December 7, 2006
· FLL Bridgeport Qualifying Event – FIRST Lego League Connecticut State Qualify Event hosted by Team 230 December 9, 2006
· Visit to OEM Controls, Major Team 230 Sponsor - Robot donated for rework with their control systems - OEM Facility,Shelton, CT April, 2007
· Demonstration to the Shelton Board of Education, Shelton High School, Shelton, CT May 23, 2007
· Relay for Life - The Riverwalk, Shelton, CT June 2-3, 2007
· Special Olympics of Connecticut, Southern Connecticut State Uiversity, New Haven, CT June 8-10, 2007
· Team 230 picnic, Misencik Residence, Shelton, CT June 9, 2007
· Read Across America – A reading incentive program for Elementary Schools
· Adopt-a-Family – Providing Christmas to local families in need
· Shelton Food Bank – Soliciting donations of canned goods and non-perishables for local families in need
Off-Season Competitions
· 8th Annual Bash@theBeach - Lyme-Old Lyme High School, Old Lyme, CT October 14, 2006
· Winter War Zone - UTC Scrimmage – Suffield High School, Suffield, CT February 17, 2007
· BattleCry8@WPI - WPI Harrington Auditorium, Worcester, MA June 15-16, 2007
o Special Operations Award - jay Monahan
Team
Students Teachers
Richie Arellano Tracey Hussey
Ben Barnstien John Niski
Dylan Birch Joe Raiola
Trevor Brinsmade Lou Schmecker
Derek Brown Helen Scully
Andrew Chapin Kerry Taylor
Kyle Chen
Paul Claudio Engineers
Dominick Fatibene Dale Bailey Jr.
Brendan Gourley Tom Farrelly
Ryan Griffin John Gomes
Nick Guido Sam Keegan
Sam Hopkins Steven Kline
Thomas Keegan Robert Lundberg
Lisa Lawrence John Miller
TJ Lipscomb Tom Symski
Douglas Lowe Richard Vogl
Brian Lundberg Paul Zito
Irina Matu
Ryan Mead Parents
Nicole Misencik Kevin & Sue Alyward
Jay Monahan Richard Arellano
Mike Mownn Mary Barnstien
Robert O'Connor Laurie Birch
Jordon Piscitelli Gail & Rick Brinsmade
James Richard Antoinette & Kenneth Card
Amy Ricker Laura Davis
Otto Schlikowski Nick Fatibene
Dan Symski Nancy Gomes
Andy Terenzio Eric Gourley
Joevito Villaluz Elizabeth Griffin
Joe Visinski Donna Hagh
Brendon Wall Jim Hopkins
Glenn Lawrence
Ted & Susan Lipscomb
Nadine Lowe
Tom & Roseanne Misencik
Everett Mosher
Jeff Neiblum
Kim O'Connor
Diane Rak
James Richard
Lois Ricker
Ruth Schilkowski
Rosalie Stuart
Carole Sylvester
Nancy Szeker
Imelda Villaluz