FIRST Overdrive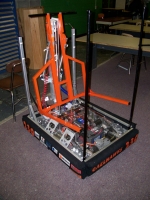 2008 was Team 230's tenth year-and we were determined to make it our best. The Gaelhawks displayed unprecidented amounts of spirit, and the robot, Talon IX, was one of the best the team ever had.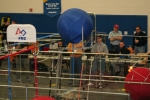 The team competed in their home regional in Hartford, Connecticut, and planned to attend the championship competition in Atlanta, but a paperwork mix-up prevented that from happening. Instead, the team traveled down to New Orleans and competed there.
The season was kicked off well, with a prototype Talon IX winning the Suffield Shakedown scrimmage. A few short weeks later, the team was in Hartford. The robot performed amazingly, placing the team in 3rd by mid-Saturday and moving up to become the 2nd place alliance. Along with teams 1991 and 61, the Gaelhawks played their way to the finals, where Talon IX was pitted against team 1124, the Uberbots, and team 175, Buzz. Unfortunately, the alliance lost in the finals, but it was the best showing the Gaelhawks ever had.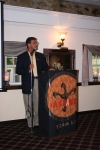 After the great showing in Connecticut, the team was hopeful for an even better performance in New Orleans. Unfortunately, the robot suffered from technical problems during several matches, landing the team in 6th place instead. Team 230 was picked by the 5th place alliance, and unfortunately lost in the quarter-finals. However, the New Orleans trip was not all about the competition. While there, the team took the opportunity to help with the reconstruction efforts, aiding the Hands for Hope program rather than attending the practice rounds of the competition
The off-season was just as exciting as the competitions themselves. Shortly after school ended, the Gaelhawks attended and won the 1st ever "Where's Wolcott" regional. In July, the team ran a 10-year reunion, allowing team members from the past and present to meet up and share an evening of memories together.
2008 Events
· UTC Connecticut Regional - Connecticut Convention Center, Hartford CT March 13-15, 2008
o Regional Finalist
o Webcast provided curtesy of Team 230
· Bayou Regional - Ernest N. Morial Convention Center, New Orleans, LA March 27-29, 2008
o Rockwell Automation Innovation in Control Award Winner
o Quarter-finalist
o Webcast provided curtesy of Team 230
Team Awards
· Founder's Award - Mr. Keith Simons
· Talon Award - Jay Monahan
· Unsung Hero Award - Sam Hopkins / Emily Spoldi
· Spirit Award - Nicole Misencik
· Rookie All-Star - LeeAnn Misencik / Kelli Freer
· Engineering Inspiration - TJ Lipscomb
· Volunteer of the Year - MaryLou Barnstien
· Volunteer of the Decade – Rick Vogl
· Engineers' Scholar - Jay Monahan
Community Events
· Team 230 Mentoring of Shelton Intermediate FLL Team, the Thundering Tigers, Shelton High School, Shelton, CT September thru December, 2007
· Team 230 Sponsored Trip to Mohegan Sun October 21, 2007
· FLL Bridgeport Qualifying Event - FIRST Lego League Connecticut State Qualify Event hosted by Team 230 - University of Bridgeport, Bridgeport, CT December 1, 2007
· Gaelhawks Dinner& Auction - Shelton High School, Shelton, CT December 7, 2007
· Gaelhawks Silent Auction - Shelton High School, Shelton, CT December 18, 2007
· Team 230 & Team 558 FRC Mentor Sharing - Shelton High School & Hill Regional Career High School - Build Season 2008
· NREF -National Robotics Education Foundation Participants - Team 230 & the SIS FLL Team Tundering Tigers - 2008
· Penguin Plunge - support for the CT Special Olympics March 8, 2008
· Hands of Hope - Hurricane Katrina home rebuilding - New Orleans, LA March 27, 2008
· 2007 - 2008 National Science Decathlon - University of Bridgeport, Bridgeport, CT April 5, 2008
· Bruce Museum Robotics Exhibit - Team 558 ehibiting with help from Team 230 team members - Bruce Mueum, Greenwich, CT April 20, 2008
· FIRST & GSA Design & Discovery Day Government Center Building, Stamford, CT May 31, 2008
· Team 230 picnic, Miscenik Residence, Shelton, CT June 6, 2008
· Special Olympics of Connecticut - Southern Connecticut State University, New Haven, CT June 6-9, 2008
· Relay for Life - The Riverwalk, Shelton, CT June 7-8, 2008
· Team 230 Ten Year Reunion - Stone Barn Restaurant. Monroe, CT July 19, 2008
· Read Across America – A reading incentive program for Elementary Schools
· Adopt-a-Family – Providing Christmas to local families in need
· Shelton Food Bank – Soliciting donations of canned goods and non-perishables for local families in need
Off-Season Competitions
· 9th Annual Bash@theBeach - Lyme-Old Lyme Middle School, Old Lyme, CT October 13, 2007
· Suffield Shakedown – Suffield High School, Suffield, CT February 16, 2008 - Champions
o Champions
o Webcast provided curtesy of Team 230
· BattleCry9 @ WPI - WPI Harrington Auditorium, Worcester, MA May 9-10, 2008
o Semi-finalist
· 1st Annual Where Is Wolcott Invitational - Tyrrell Middle School, Wolcott, CT June 14, 2008
o Champions
Team
Students Teachers
Jose Alvarado Tracey Hussey
Richie Arellano John Niski
Ben Barnstien Joe Raiola
Kyle Chen Lou Schmecker
Chelsea Cox Helen Scully
Aaron Egensteiner Kerry Taylor
Lindsey Evans
Kelli Freer Engineers
Sam Hopkins Dale Bailey Jr.
Thomas Keegan Tom Farrelly
Daniel Lavigne John Gomes
Lisa Lawrence Sam Keegan
TJ Lipscomb Steven Kline
Brian Lundberg Robert Lundberg
Stephen Manke John Miller
Ed McCann Tom Misencik
Stephen Miller Laura Spoldi
Leann Misencik Richard Vogl
Nicole Misencik Paul Zito
Tommy Misencik
Priya Mohan Parents
Jay Monahan Jim Hopkins
Jonathan Niedzwiecki Jim & Lois Ricker
Jordan Piscitelli Patricia Turco
Amy Ricker Philip & Danielle Niedzwiecki
Emily Spoldi Ravindra & Nagamani Yarlagadda
Sarah Stroud Richard Arellano
Robert Sura Robert Freer
Joe Turco Roseanne Misencik
Joevito Villaluz Ted and Susan Lipscomb
Caitlin Visci Warren & Leslie Egensteiner
Karthik Yarlagadda Mary Lou Barnstien