Ultimate Ascent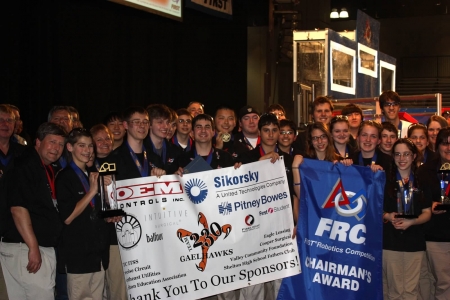 Years of mentoring FIRST Lego League teams began to pay off for Team 230 in 2013. A record number of students joined the team this year and became involved in various activities. .
The team continued to focus on community activities, and was rewarded with the Chairman's Award during the New England Regional Event. This was the last New England Regional, as CT prepares to begin the District format in 2014.
The team had a very successful year competing in two regional events, the new CT State event and the National Championship.
2013 Events
Granite State Regional Competition in New Hampshire Feb 28 – Mar 2, 2013
- Industrial Design Award sponsored by General Motors
- SemiFinalist
Northeast Utilities FIRST Connecticut Regional - Connecticut Convention Center - Hartford, CT March 28-30 2013
- Chairman's Award
- SHS Junior Tyler Tallo was chosen as a Dean's List Finalist
- 2nd Place Finalist
2013-CT State Championship
- 2nd Place Finalist
2013 Championship St Louis
Community Events
- 2013 Girls In Tech
- 2013 Relay for Life
- 2012 Shelton Day
- Mentored four Lego teams and hosted Shelton Regional Lego Tournament
-
Off-season Competition
FRC195 CyberKnightsFRC228 GUS full field in Plantsville,CT
o 14th Annual Bash@theBeach - Lyme-Old Lyme Middle School, Old Lyme, CT October, 2012
o Suffield Shakedown - Suffield High School, Suffield, CT February, 2013
Team Awards
- Founder's Award -Shelton Board of Education
- Engineering Inspiration Award – David Karwowski
- Talon Award –Tyler Tallo
- Unsung Hero Award – Jordan Kovacs
- Lou Schmecker Dedication Award - Sarah Stuart

- Spirit Award – Henry Jiang
- Volunteer of the Year–Mrs. Rose Stuart
- Rookie All-star Award – Joseph Niski / Christian Tallo
- Media Technology Award - Brittany Russo
- Golden Wrench Award - Bryce Gallagher

Team