Diabolical Dynamics - Talon II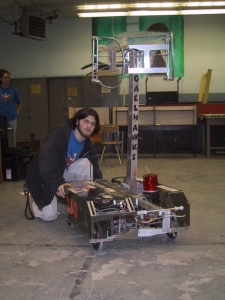 Dubbed the "Big Ball Robot" Team 230's 2001 entry was designed for this specialty. After a disaterous season the previous year the concentration was on KISS, "Keep It Simple Silly". Reliability, duability, and the ability to contribute positively to the alliance.
Dyabolical Dynamics put four robots on the same side during a match so cooperation was a key elemvent. 230's main focus was lifing the large medicine balls on top of the goals. And although we had a secondary systems for goal handling most of practice went towards handling the big balls.
From all the lessons larned the previous year our drive train, 4 wheel, chain driven, tank style, was well build. This robot would become our main demonstration robot for years to com.