Zone Zeal - Talon III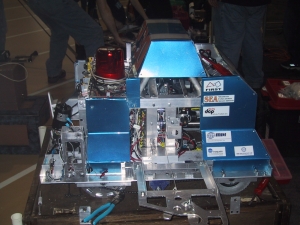 In 2002 Team 230 continued with the theme off specilizing in doing one task well rather than trying to do it all. In this competition one of the major activities was moving large, heavy goals to your scoring zone on the field.
230's simple design was to capture two quickly right at the begining. It's "talons", modified carabeaner claws, would not let go once latched. Pnuematic assited feet once deployed assured that no one else could move 230 or their goals down field.
With the addition of the two scissor scoring "gates" 230 had a competitive robot this year and missed Einstein by inches.