Triple Play - Talon VI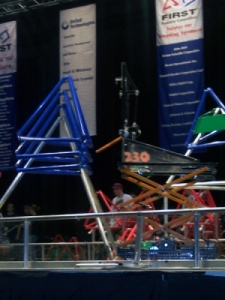 Team 230s Triple Play robot was one of the more effective "Dumpers" of the season. Design to load and cap several tetras at once it was an effective stratagy during the regular season. Along with a reliable autonomouse mode that capped a goal every time and the rapid man-machine interaction of quickly loading the tetras it seemed to be an unstoppable force. Even management in lofty Manchester, NH were impressed. In the end however the more nimble crane-type robots were able to leverage the end-game and out-cap and out-tic-tac-toe our Dumper. An alliance of 3 dumpers verses 3 cranes in the our Atlanta quarter finels we utterly out classed.
Talon VI was robust. It could and did take a lot of punishment in these pre-bumper competitions. Its 4 wheel tank-drive system fronted by omni-wheels was highly menueverable and fit the game appropriately. The scissor lift base to raise the tetras to dumping height was stable and quick and the pneumatic assisted dumper itself was fast and strong.