Double Trouble - Dr. Klaw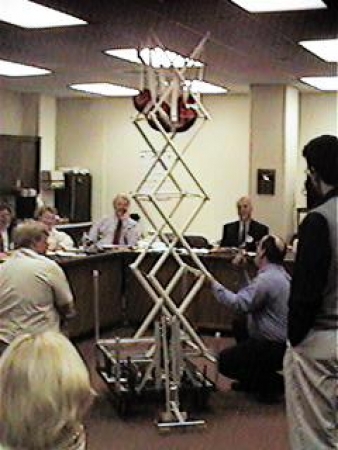 "Dr. Klaw" was constructed during Team 230's freshman year during the 1998-1999 season. The Team known as MAD before the Gaelhawks moniker hit the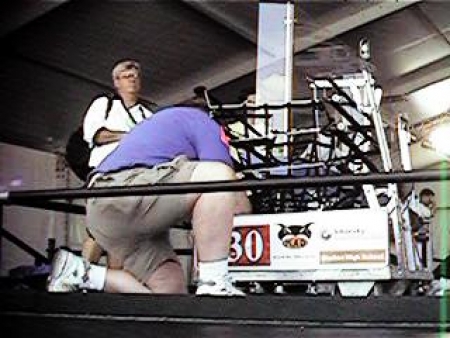 scene built an indestructable machine. It sported a welded steel fram propelled by two direct drive van door motors that may have achieved an impressive 4 feet per second speed. The crowning achievement that contributed to its UTC New England Regional Rookie All Star award was a simple but elegant "scoop" that lifted "floppies" the game piece of this year into an basket that it carried on its back. Bonus points were achieved by a lift mechanism that elevated the floppies above six feet. This possibly was one of the most succesful scissor-lift mechanisms in FIRST history.
Steering was achieved by counter rotating the two direct drive wheels with castors in the front. An addition element of the game required the robot to climb a "puck" in the end game for more points. 230s solution was mounting the castor wheels on a colapsable frame. Dr. Klaw beached itself on the puck and lifted its drive wheels with a speed screw powered by a Fisher Price motor.
Affectionately known as the "Mud Duck" by the team by its lumbering speed and indestructable frame Dr. Klaw got its name from a hook mechanism that was attached to a rotating claw powered by a second Fisher Price motor that was designed to grab the puck on one of the three inch steel pipes attached to it. Teams that moved the puck into their side of the field got additional points.
Dr. Klaw servered the team well. Team 230 was in the elimination matches both in Hartford and the Championships that year.